Sorry I have been M.I.A. I have been so busy this week and have realised that I have not been blogging, I have been reading though!
Miss C and I had a lovely morning tea with special friends. I kept Miss C home from school due to fire risk, her friend's school was actually closed (scary stuff)
coconut cakes here

I am hooked (pun intended) on crocheting washcloths from cotton, bamboo and soy threads. I am making some for a dear friend's birthday to put with some organic soaps. I also plan to make some for the bushfire appeal. They feel so soothing. My friend and I enjoyed partaking of coffee and cakes (including the yummy pecan and apple friands she made) whilst madly crocheting. Go Granny Power!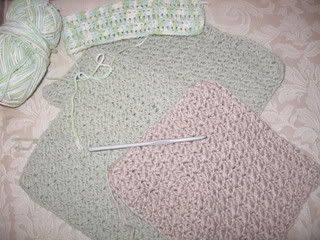 patterns
here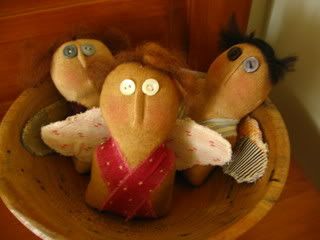 The gorgeous prim angels arrived just now from the lovely
Jazy
. I love them! How lucky was I to be the winning bidder!
and soon I'm off to the Post Office for my passport interview - but that's a story for another day!
you can join in
here
to share your own Friday love