The latest issue of Country Threads features my Pieceful Angel doll. I have also contributed a small piece to the Expert's Forum about children in the craft room.
This is an apron that I custom made for Maureen, based on a child's pattern that I designed for Patchwork and Stitching magazine.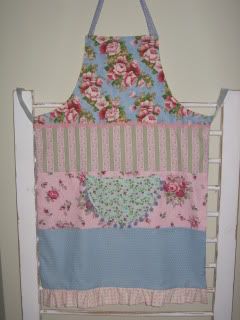 And this is Abby (sorry about the poor quality pic, I scanned it from the invitation) - today she celebrates her first Birthday. A real milestone for a little girl who has had a challenging start to her life. I made her this little ribbon quilt/blankie and tag toys. The aim being to provide stimulation and sensory input. Thanks to
Homemade by Jill
for the inspiration and tag toy patterns.
P.S don't look too closely at the carpet, still haven't got a new vacuum cleaner....